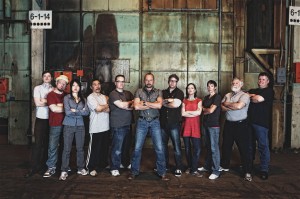 It's New Year's Eve and a time to reflect on the year in passing. This has been an incredible year for the Mommiologist household, not for the least reason that my little girl finally potty trained. It's the weirdest experience that I can finally talk about. Last summer I was one of ten contestants on season two of Canada's Greatest Know-it-All. It was an adventure of a lifetime – every day we met at the lobby of our hotel in scenic downtown Hamilton (ahem) and were carted off to some adventure – and all we had to do be entertaining and tell the interviewers our innermost thoughts. Easy!
The one question that they kept asking me is why on earth would I leave my family and life for a month to take part in a reality television show that I had barely watched. It was a good question and I'm still not entirely sure. I had applied for the show for the first season when a friend of mine and fellow science blogger, Carin Bondar, mentioned that the casting agents were having a hard time finding women to apply for the show. At the time my career had all the upward mobility of a swamp and I can't say no to an opportunity to show up the boys, so I applied in a heartbeat, desperate to do something other than plate bacteria in a dungeon lab that flooded fortnightly. I didn't get cast the first year but they contacted me asking me to reapply for season two. Why did I say yes? Of course there was the mercenary drive – perhaps doing the show would be a good way for me to become the next David Suzuki. And there was the issue of personal pride – I don't like to back down from a challenge.
These are all solid motivations and are easy to say on television. But I also had been fighting a sinking feeling that as a mother my years of adventure were over. I don't climb mountains anymore, I don't go on 5 week trips around the world, and really, if I go out drinking I'm just as happy to be home and in bed by 11. I'm like Liz Lemon without the entertaining job. So when the casting agent called my office and said "I'm sure you can understand that we've had lots of applicants and lots of really interesting people…" and as she hoped, my wild day dream of Canadian television fame started to fade, and then she said "which is why I'm thrilled to tell you that we'd love to have you on the show…" how could I not say yes?
I did say yes. I did have the adventure of a lifetime. I met some incredible people: First our wranglers who had to put up with some seriously annoying people incapable of being on time or handling the simplest things: Emily (Penny) and Katrina (Hurricane). Angels both. Bill: outgoing, gregarious and endearing, Abe: humble and fascinating, who had spent the weekend before coming to the show hunting walrus, Beth: quiet and tough as nails, who's flown the biggest planes in the scariest parts of the world, Laura: young, competitive, outspoken and hilarious, Owen: storyteller, jokester, and man of a million voices, Scott: competitive, fearless and brash,  Andrew: witty, deceptively shy and hopelessly literal, and Ben: the crazy man who's been hit by lightning twice and has a heart of gold, and Doug: who'd have me laughing hysterics by reciting 60-year old British comedy routines that I thought only I had heard of. It was a stressful, crazy few weeks. As a result of the weird circumstances into which we were thrown we got to know each other very quickly. The competition and uncertainty brought out the best and worst in everyone. And it was fascinating.
The show will show some intriguing people doing some crazy things, and how it will be edited is always a concern. Television being television, the crazy will make the cut. That's ok. The weak, aggressive or extreme edges of a person are what make us human. And so, before the rollercoaster starts, I want to take some time to remember the experience and people my way, before what's shown on television changes my point of view. To all the other Know It Alls, you're awesome. Every one of you.